By Jim Birchall
At a recent Howick Local Board meeting new names for new streets were being discussed.
It was made apparent by an Auckland Council representative, that new roads and streets within Auckland could now only be named after a living person.
After approaching chair Adele White to clarify, the Times was referred to senior advisor to the HLB Ian Milnes, who directed our reporter online to the road naming guidelines for Tamaki Makaurau.
Principal 3.4 refers to naming roads after living people, and contains the text  "the names of people still living should be avoided" and goes on to add "as community attitudes and opinions can change over time."
The use of Maori street names is "actively encouraged" to "support a Maori identity that is Auckland's point of difference in the world" according to principal 4.1.
This is not an absolute ruling but suggests the practice of naming after those still with us would be frowned upon by officialdom at Auckland Council.
It is also in opposition to many current street names in the area being adorned with the names of well-known, very-much-alive people.
Golflands contains streets that refer to Frank Nobilo and Tiger Woods, while Flat Bush recognises All Black greats like Michael Jones (which hasn't been updated to reflect his Knighthood), and local rugby heroes like Frank Bunce and Robin Brooke.
So why the change? Has there been a plethora of falls from grace from people honoured by street names?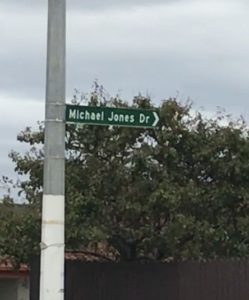 Looking locally, no-one comes to mind off the bat, although with time, that may change.
Do you have an opinion on this?  E-mail jim@times.co.nz with your comments.